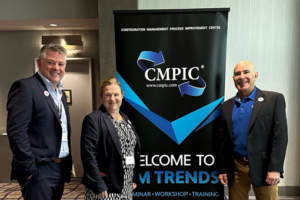 Claudia Rosenberger, CEO of usb, spoke about the importance of CM for Digital Continuity at CM Trends 2023, held at August 21-23 in Long Beach, California, USA.
Summary of usb's presentation:
Digital continuity needs CM.
Digital continuity is a critical factor to ensure the goal of CM.
The digital tread is key to digital continuity.
Digital transformation within companies significally effects Configuration Management.
If you are interested to learn more about the keynote of Claudia Rosenberger, contact us at any time: sales@usb-muc.de.
usb says thank you to CMPIC for the great networking-event with a lot of of interesting information on current developments.