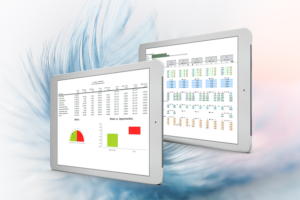 The trend in databases is towards Microsoft SQL Server. And our software for weight management is keeping up. A customer in North America is already productive with it.
Up to now, usb's M³ weight management has relied on an Oracle database as the data storage layer. However, we are observing a trend among our customers towards Microsoft SQL Server, presumably because IT departments have a broad know-how of Microsoft products and the corresponding SQL Server integrates seamlessly into an MS environment. For this reason, M³ weight management now also supports Microsoft SQL.
How do you calculate the weight and the center of gravity of an airplane, train or motor vehicle in an early development phase when all the components are not yet finished? Don't rely on rough estimates, but make realistic predictions with the help of M³ software to guarantee your customers specific weight properties as soon as you have received the order. And analyze decisive mass properties over the entire product life cycle.
More Information about usb's »M³ Mass Management or »register now for a free and individual evaluation-session!