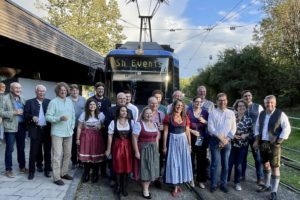 usb, since 2016 a 100% subsidiary of Philotech, now exists 40 years on the market, representing a huge knowledge in Product Lifecycle- (PLM) and Configuration Management (CM).
Our company history started 1982 with the objective of supporting and further developing the CM for the Tornado combat aircraft system at the former MBB. Soon we expanded our business activities to further areas of product data management and presentation of customized CM solutions.
When usb became in 2011 the sole representative of the Configuration Management Process Improvement Center (CMPIC) in Europe we perpetuated our prosperity in trainings as well. This way the base for the upcoming success story together with Philotech and the Philotech Academy was set.
In the meantime, usb has earned as well lots of project experience in Requirement Management and technical weight/mass management and is a reliable partner for Oracle and PLM solutions.
We would like to thank all employees of usb for their trust, commitment, and great work, thus having celebrated our anniversary in a appropriate manner.
We look forward to many more years of great cooperation!