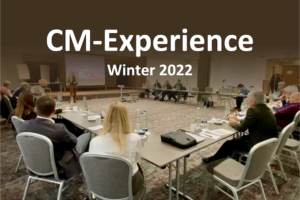 The new networking dates for the CM Community are set: In summer, the popular usb event will take place on June 22, 2023, in winter on December 01, 2023.
Don't miss out and save the date. Participation is free of charge!
We are happy about all the satisfied speakers and participants of the last CM-Experience, which took place on December 2, 2022:
"I have known usb for many years and appreciate the professional cooperation with the managing director Claudia Rosenberger and with Harald Schwabe, who is a luminary in the field of configuration management. I always find usb's CM experience interesting: because of the practical relevance, the broadly spread topics and because I can exchange ideas with many expert colleagues from different industries beyond the field of aviation." – Sven Patschnig, Airbus Defence and Space
The 2023 CMPIC training dates have also already been set:
»Overview dates on the official CMPIC website
Information on the individual courses can be found on the usb website in the training section. If you have any questions, please contact us by e-mail at info@usb-muc.de or call us at +49 (89) 928 04 0.